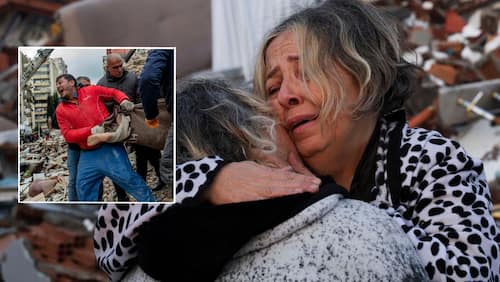 Turkey was hit by a massive earthquake which has claimed over 7,300 lives already. Let's take a look at how such disasters affect the mental health of the ones who are among the survivors.
On Monday, Turkey was hit by a massive 7.8 magnitude earthquake at 04:17 (01:17 GMT). A later tremor was as big and hard as the first one with its epicenter in the Elbistan district of Kahramanmaras province. This is the strongest earthquake to shake the region in more than 100 years. As per the latest reports, the officials have confirmed that 7,300 people have already lost their lives to the devastating earthquake, and more numbers are expected to get added in the upcoming hours. The United Nations has also warned that over a thousand children have died in the latest earthquake.
Why Turkey is prone to severe and devastating earthquakes? It is because of its location. Turkey's proneness to earthquakes comes from its tectonic location. The Earth's outermost layer comprises of some 15 major slabs, called tectonic plates.
'We Heard a Voice While Digging': Survival Tale of a Newborn
Some emotional stories and extraordinary survival tales have emerged of the survivors have emerged on the internet that shows a very different and saddening side of what is left behind by the devastating quake that Turkey faced on Monday. In a report, local media stated a newborn baby was pulled alive from rubble in Syria, still tied by her umbilical cord to her mother who died in the quake.
Speaking to the news agency AFP, a rescue worker said, "We heard a voice while we were digging." He further added, "We cleared the dust and found the baby with the umbilical cord (intact) so we cut it and my cousin took her to the hospital." As per the reports, the newborn is the sole survivor of her immediate family.
Is There a Link Between Natural Disasters And Mental Health?
Though the physical effects of natural disasters may fade within weeks or months, the psychological toll these events take on individuals and communities can linger for years. Such disasters not only damage the psychological health of the individuals who have survived them but also affect the complete psyche of the body by disrupting the mental peace, that is required for good overall well-being.
Today, in this article we will decode the relationship between the two (natural disasters and mental health), and understand how such events can leave severe impacts on the survivor's psychological health.
Can Earthquake Affect Your Mental Health?
Yes, it can have some serious impact on your mental health. According to the studies, survivors of such disasters suffer from severe stress, anxiety, and depression for years, and some of these mental health complications also torture their psychological well-being. Experts say that almost everyone who has survived a natural disaster, as deadly as an earthquake like Turkey, will experience some sort of emotional reaction to the event.
In a book named "Healthy, Resilient, and Sustainable Communities After Disasters," experts have stated that for a lot of people who have survived a disastrous natural event, the acute reactions will be transient, and functional recovery will occur without any medical or mental health counseling. However, in some exceptional cases, the impacts of any type of natural disaster on their behavioral health can be severe, long-lasting, and even life-threatening. Therefore, one needs to know the effects, and address them at the time of their onset — this will not only help the individual from staying safe but will not result in any significant long-term health burdens.
Mental Health Problems Natural Disaster Survivors May Face
Common mental health effects of such natural disasters that survivors may face for years post-event include:
Distress
Shock
Depression
Anxiety
Burnout
Mood swings
Confusion
Fear
Irritability
Post-traumatic stress disorder (PTSD)
Flashbacks
Sleep apnea
Difficulty in concentrating
Who Is At Higher Risk of Suffering from Mental Health Issues?
As per the experts, some groups may feel the mental health effects of such devastating events more strongly than others, some of them include:
Children
People suffering from mental illness or have survived trauma
Recovery workers
Healthcare workers
Taking cognizance of the increasing death toll, Turkish President Recep Tayyip Erdogan has announced a three-month state of emergency in the 10 provinces worst affected by the earthquake.
Total Wellness is now just a click away.
Follow us on


Source link