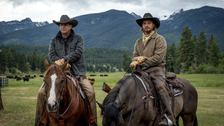 This current season of "Yellowstone" will be the last, but the cultural impact of the hit Western will live on in hundreds of U.S. households (as well as, y'know, in that sequel series we've been hearing about).
New data from the Social Security Administration shows that "Dutton," the last name of the fictional family of ranchers featured on "Yellowstone," is the fastest-growing baby name in the U.S.
Between 2021 and 2022, the name Dutton jumped up 986 spots on the list of popular names for baby boys, from No. 1,821 to No. 835. It's the first time the name has ever appeared in the U.S. Top 1,000, as 291 newborn boys (plus 16 girls) were named Dutton last year. It's also the biggest increase for any single name on the boys' or girls' lists.
According to experts, "Yellowstone" is assuredly behind the name's rise. The Paramount Network show is one of the most-watched series on television and has spawned talk of a growing list of spinoffs.
"Most parents absolutely discovered Dutton on 'Yellowstone,'" Abby Sandel, creator of the baby name blog Appellation Mountain, told HuffPost. "Dutton doesn't appear in the U.S. Social Security Administration data at all before the series' 2018 premiere."
Indeed, the SSA shares every name given to at least five newborns in a given year, and "Dutton" didn't show up in that data until 2018.
"This is the age of children named Kylo and Khaleesi," Sandel said, referring to characters from the "Star Wars" and "Game of Thrones" franchises. "Borrowing Dutton from a family of fictional ranchers is pretty tame by comparison. It helps that John Dutton III, played by Kevin Costner, is strong, principled, and looks good in a cowboy hat. We love boys' names that project a strong, capable image. Dutton borrows the character's backstory, and instantly picks up the same bona fides."
She believes that "Dutton" feels like a more subtle alternative to other "tough guy" names like "Ryatt" and "Wylder," which also appear in the Top 1,000.
Jennifer Moss, founder of BabyNames.com, notes that the name Dutton "is an English surname based on the personal name Dudd/Dudda ― meaning 'from the town/village of Dudd.'"
"It's been a trend in the last ten years or so to use surnames as given names," Moss said. "From Madison to Parker, Hudson, Harrison, Lincoln, et al., and Dutton fits that trend."
Choosing a surname as a baby's first name has long offered a way for parents to honor family members, particularly those in the maternal line where names are often changed after marriage. Using your grandmother's maiden name as your child's first name, for instance, can be a thoughtful and creative way to pay tribute while avoiding common or outdated name options.
But even when there's no family connection, surnames often make for a more gender-neutral baby name, which is an increasingly popular approach for parents. Historically, we've seen a rise in presidential last names like "Taylor," "Kennedy," "Grant," "Carter," "Lincoln," "Jackson," "Clinton," "Ford," "McKinley" and even "Hayes."
But pop culture offers a more recent example with "Cullen" ― the last name of the vampire family in the "Twilight" series ― which jumped up almost 300 spots on the popularity list the year after the first movie was released. Like "Cullen" and other surnames-as-first-names, "Dutton" has a familiarity that makes it easy to spell and pronounce, but a sense of distinctiveness that feels fresh.
"As parents look for more unique and unusual names, they'll hear a name like Dutton, that they've never heard used as a baby name before, and feel they're being 'cutting edge' by being the first," Moss said. "They just don't realize that hundreds of other parents are thinking the exact same thing. I suspect Dutton will rise quickly on the charts, depending on how long the series lasts."
The name also sits at the intersection of multiple trends.
"We love D names for our sons, whether it's classic David and Daniel, or the more contemporary Dylan and Dash," Sandel said. "Dutton fits right in, but it also owes something to fellow surname Sutton. Thanks to actress Sutton Foster, the name Sutton now ranks in the Top 1,000 for girls and boys. Dutton shares the same style, but feels more obviously masculine."
Baby name consultant Taylor Humphrey similarly believes "Dutton" offers a fresh alternative to more popular choices like "Dustin" and "Duncan" with its phonetic similarities and sense of fortitude. She pointed to the "preppy cowboy name" trend in contemporary baby naming as well.
"Fit for the prairie or a prep school, the 'preppy cowboy name' feels just as comfortable roaming the ranch horseback as it does hobnobbing at a yacht club," Humphrey explained, adding that these monikers often consist of a two-syllable first name and a one-syllable middle name.
"When saying the full name aloud, preppy cowboy names have the charm of a double-barrel sound — think 'Suzie Q' or 'Jesse James' — without the commitment to using the middle name along with the first name," she said. "Preppy cowboy names offer a really lovely flow that feels reminiscent of a bygone era, but also offers the professional versatility of a single name when the child eventually enters the workforce."
Humphrey said there's a combination of sophistication and playfulness in this category of name, and compared it to a dusty old pair of cowboy boots.
"Preppy cowboy names evoke a sense of legacy and gravitas," she said. "These names feel sturdy, enduring, built to last and ready to overcome any obstacle."


Source link