Fittingly, Paris Hilton has named her first child after a city that's hot.
The heiress, who is named after the City of Love, announced the name of her baby boy with husband Carter Reum on Instagram Wednesday: Phoenix Barron Hilton Reum.
Hilton tied the reveal in with a promo for her upcoming memoir, "Paris" (out March 14). Alongside the Instagram post announcing her son's name is a snippet from her iHeartRadio podcast "This Is Paris," in which she reads an excerpt from her memoir that explains how she chose the Arizona city.
"If all goes well, by the time you read this, Carter and I will have a baby boy. We plan to name him Phoenix, a name that I decided on years ago when I was searching cities, countries and states on a map looking for something to go with Paris and London," she read.
Although Phoenix — whose birth via surrogate was announced in January — is Hilton's first child, she has expressed in the past that she's always envisioned her first daughter being named London.
The reality star noted in her excerpt that she also appreciates the double meaning of her son's name.
"Phoenix has a few good pop culture reference points, but more importantly it's the bird that flames out and then rises from the ashes to fly again," she continued. "I want my son to grow up knowing that disaster and triumph go around and come around throughout our lives. And that this should give us great hope for the future."
Which is pretty sweet — and hey, it would also make Harry Potter's Professor Albus Dumbledore proud.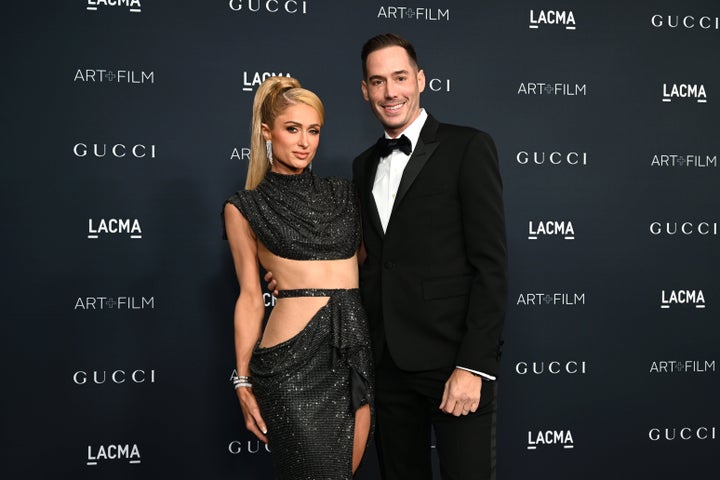 Elsewhere in her podcast episode, Hilton explained the infant's middle name is a tribute to her late grandfather, Barron Hilton:
"He was always my mentor. I looked up to my grandfather so much, and we were so close, and I miss him every day," she said 14 minutes into "This is Paris" on Wednesday. "So, I really wanted to honor him by having his name in my first son's name. So there you go. My beautiful baby boy's name is Phoenix Barron Hilton Reum."
She also revealed on her podcast that she and her husband kept the name secret even from "my mom, my sisters, my best friend" so that she and Reum could have "our own journey together."
"I just feel like my life has been so public," Hilton said in the episode. "And I've never really had anything be just mine."