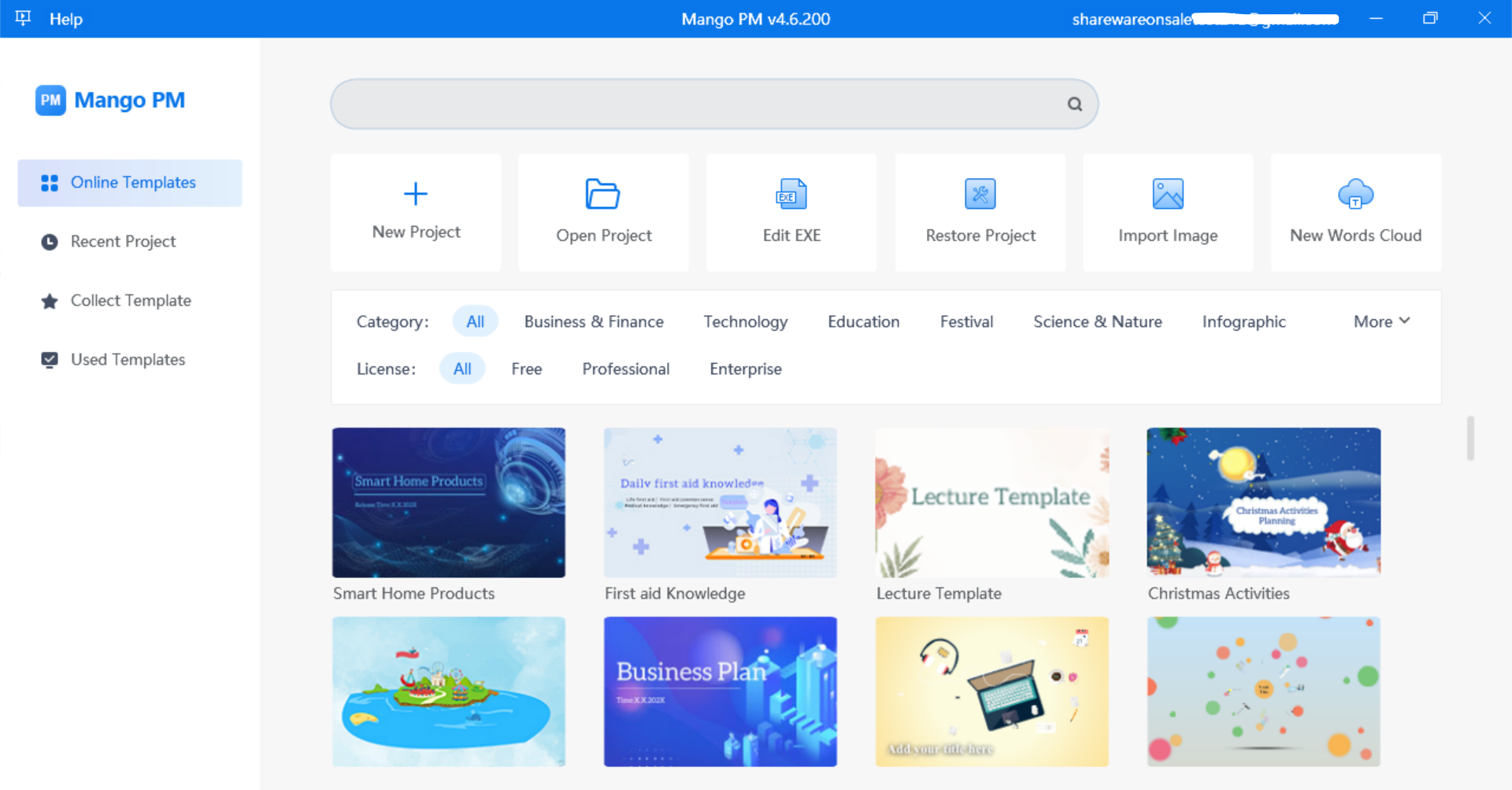 Mango PM is a presentation maker that offers various and dynamic elements for global users to create professional and engaging presentations. It allows you to either upload your assets to craft animated presentations or choose your favorite background templates, animated effects, and decorations from its provided libraries.
Mango Animate is a cutting-edge animation software developer that provides an animated
presentation maker for users from all walks of life. With a wide range of 2D & 3D dynamic
backgrounds and animation effects, versatile multimedia support, and customizable templates,
Mango Presentation Maker(Mango PM) makes it easy and quick to create splendid presentations
that greatly impress your audiences. You will be able to use this drag-and-drop presentation
software to include not only images, audio, videos, and animated characters but also interactive
elements like pop-up windows to enrich and elevate your presentation slides. Additionally, it
allows you to export and share animated presentations in a variety o formats to help reach a
broader range of audiences.
Featured in
 2D & 3D Display Effects- Bring your presentation slides to life with a vast selection of well-
crafted dynamic backgrounds as well as 3D effects (zoom, pan, rotate). You will easily create
captivating presentations that leave a long-lasting impression on your audience.
 Customizable Presentation Templates- Get started quickly with this presentation maker's
500+ customizable templates. Choose from a variety of templates for different industries
and purposes, and drag and drop vector icons, stickers, SWFs, charts, shapes, scientific
symbols and patterns to fit your unique needs.
 Interactive Elements- Engage your audience with interactive elements that make your
presentations more memorable. You are able to add interactivity like Emphasis or Zoom to
highlight and reveal any object.
 Lifelike Showcase Scenes- Our animated presentation maker enables anyone with no
technical or artistic knowledge to create professional-grade presentation slides without
hassle. You will have your own cartoon presenter on the slides- by choosing dynamic
animated characters with rich motions, actions and emotions. Plus, with speech bubbles,
text blocks, audio recording and voiceover features, you can get things done faster.
 Versatile Multimedia Support- Elevate your presentations with multimedia elements that
capture your audience's attention. You have the option to upload your local images, videos,
background music, links, etc., to add the perfect touch to your presentations. Audiences
who see your animated presentations will have an immersive experience.
 Export to Multiple Formats- Share your presentations on different platforms and devices
with ease. You are allowed to export your presentations to various formats, including EXE,
MP4, GIF, HTML5, and Zip, to reach your targeted audience wherever they are.
If you have any problems or need any help, please contact Mango Animate
at support@mangoanimate.com
The post Mango Presentation Maker Professional (100% discount) first appeared on SharewareOnSale.



Source link