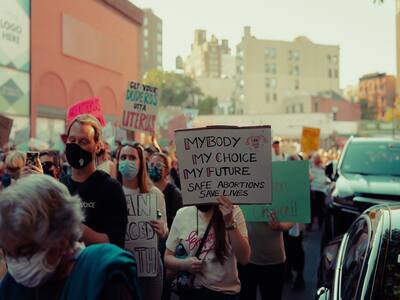 Abortion often finds itself in a grey area between a woman's personal autonomy and the country's laws
A recent bill signed in Florida seeks to ban most abortions after six weeks following conception and establishment of pregnancy. The bill has attracted an uproar from women who are opposing it with fury as it endangers their right to personal autonomy and prevents them from seeking abortion for the right reasons.
Reportedly in April 2022, the Florida governor signed a similar bill that reduced the abortion cap from 24 weeks to 15 weeks. This is the second time in line that a reduction has been made in the state.
As per reports, if the abortion bill comes into force will prevent all women in Florida from seeking an abortion after six weeks into the gestation period unless the conception endangers the health of the mother or it follows rape or incest and if it does not exceed 15 weeks or in cases where the fetus' life might be in danger.
According to the White House Press Secretary Karine Jean-Pierre, the time window prescribed is so short that many women might not even know if they are pregnant in the first place.
On a similar ground, a federal judge in Texas suspended US approval of the abortion pill mifepristone, one of the two drugs commonly used for medical abortions. The order received a conflicting voice from another federal court in Washington state, ordering the Food and Drug Administration to refrain from taking any action that would affect the pill's availability. The two contradicting orders have left the fate of the drug in the air for a while till a conclusion is reached.
Experts fear that putting strict abortion caps might not be beneficial or helpful for women's and child's health but it might rather encourage women to seek unsafe alternatives.
Where does India stand on abortion?
Interestingly, India has been relatively more liberal when it comes to abortion rights. In a historic decision last year, India's Supreme Court allowed all women, even those who are not married to get an abortion up to 24 weeks. The Court had observed that all women irrespective of their marital status were entitled to safe and legal abortion practices.
As per WHO, India amended the Medical Termination of Pregnancy (MTP) Act 1971 to further empower women by providing comprehensive abortion care to all. It increased the upper gestation limit from 20 to 24 weeks for special categories of women, including survivors of rape, victims of incest and other vulnerable women (differently abled women, minors, among others).
Why legal abortion matters?
Experts have realized over the years that preventing people from accessing safe abortions done by healthcare professionals might not stop or reduce the number of abortions being performed but rather it may force them to seek out unsafe procedures performed by people lacking the necessary skills and in unsafe environments that do not conform to medical standards. As per WHO, unsafe abortions are a leading preventable cause of maternal deaths worldwide.
Total Wellness is now just a click away.
Follow us on


Source link