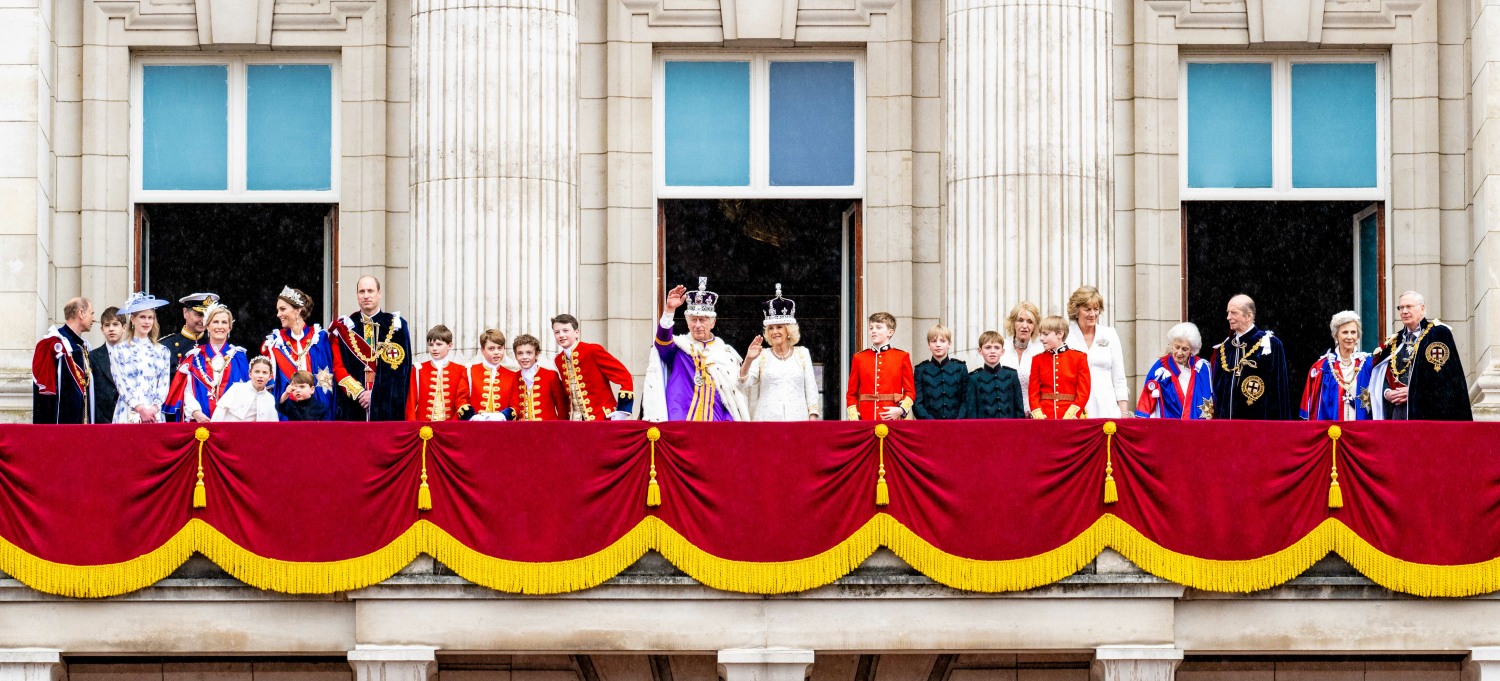 Here it is, the "balcony" moment at Buckingham Palace, following the coronation at Westminster Abbey. The newly crowned King Charles and Queen Camilla staggered out to the balcony, and this was the end result of months of careful planning and thousands of leaks to friendly media allies: the king not flanked by his heirs, but flanked by page boys, with the all-white working royals pushed off the far ends of the balcony. They stood as the flyover happened, miraculously because there was a real danger that the flyover would be canceled given all of the rain.
At the end of the day, it just felt like a giant disappointment. The palace had openly briefed everyone that Prince Harry was not invited on the balcony because he had committed the cardinal sin of marrying a vivacious Black woman. So you would have thought that Charles would emphasize the dynastic line which did show up for him – William and his children. But no, they were shuffled off to the side with the Wessexes/Edinburghs. Such a weird visual. Then Charles and Camilla staggered back out to pose on the balcony, just the two of them. They are very… self-absorbed.
More people did come out – the Mall was wall-to-wall from the looks of it, even though it was raining for most of Saturday. While Charles was probably relieved with the turnout in London, the "coronation parties" outside of London didn't have much turnout, if social media is to be believed.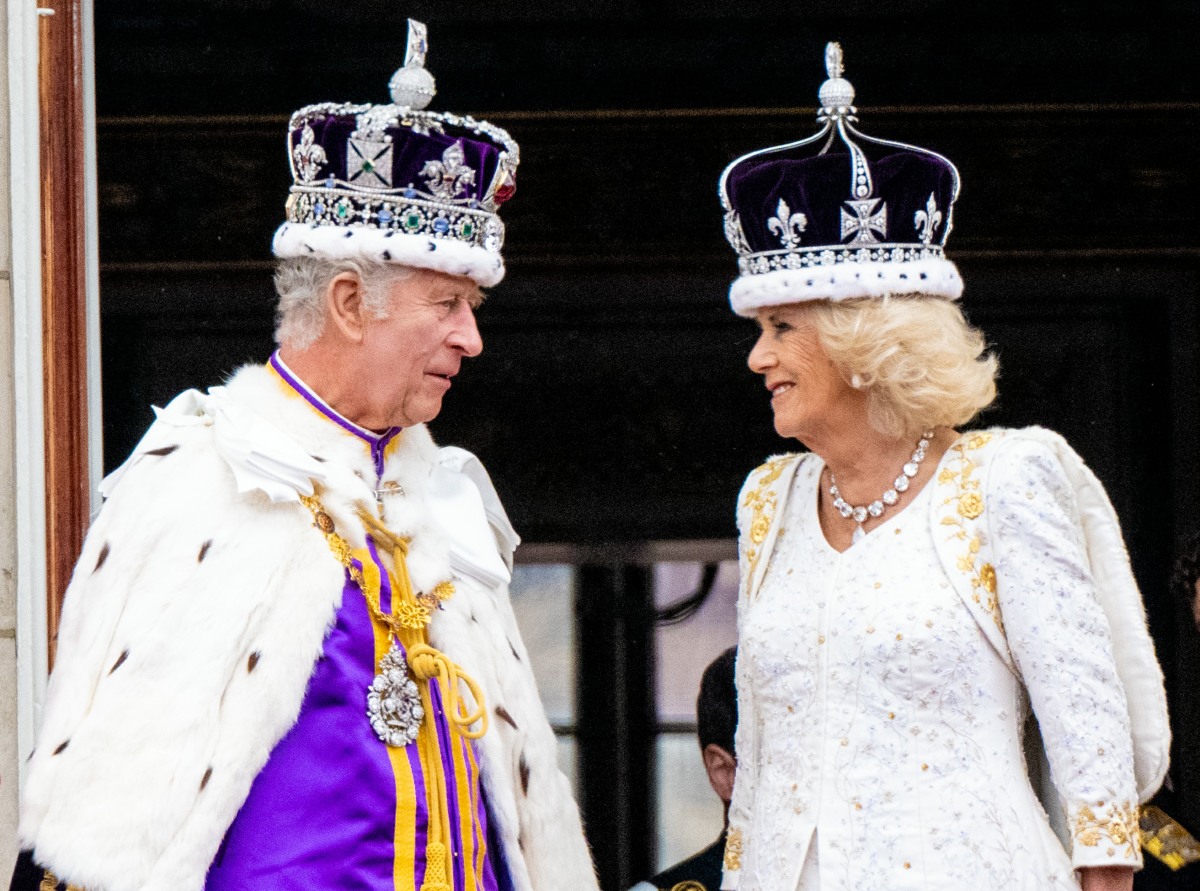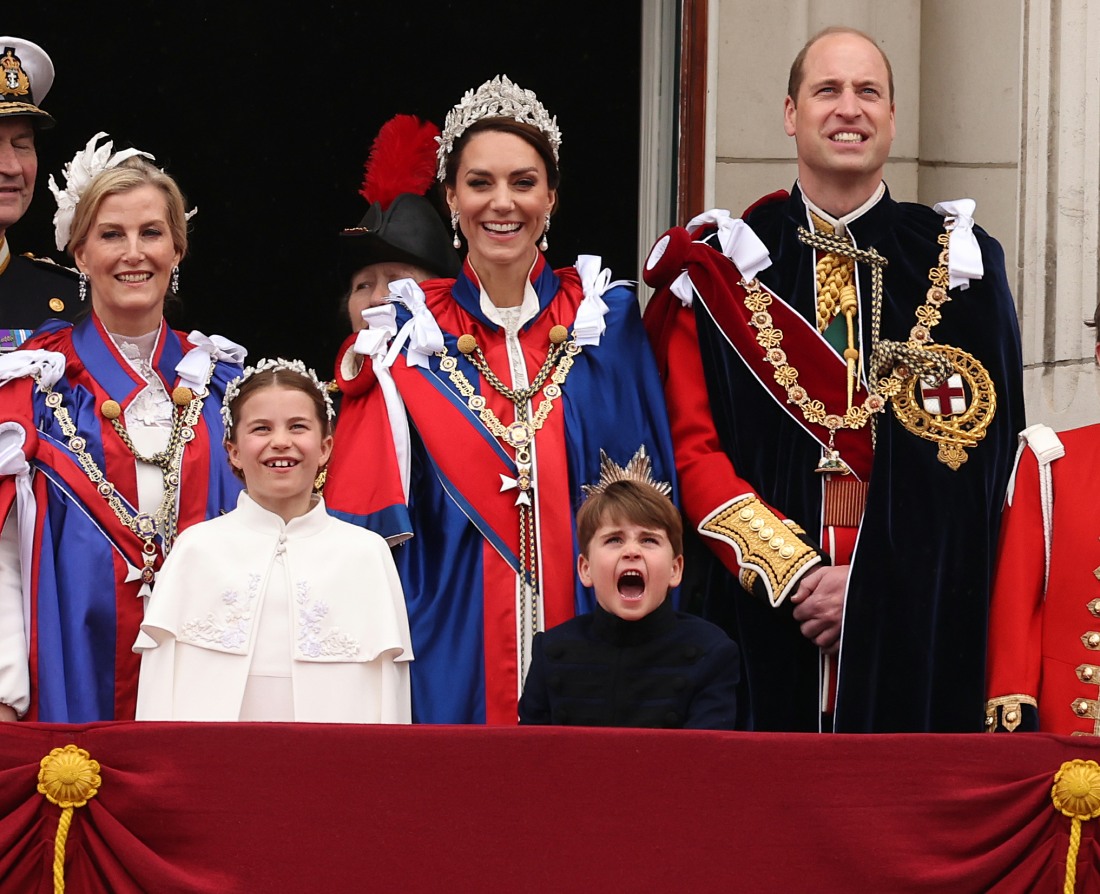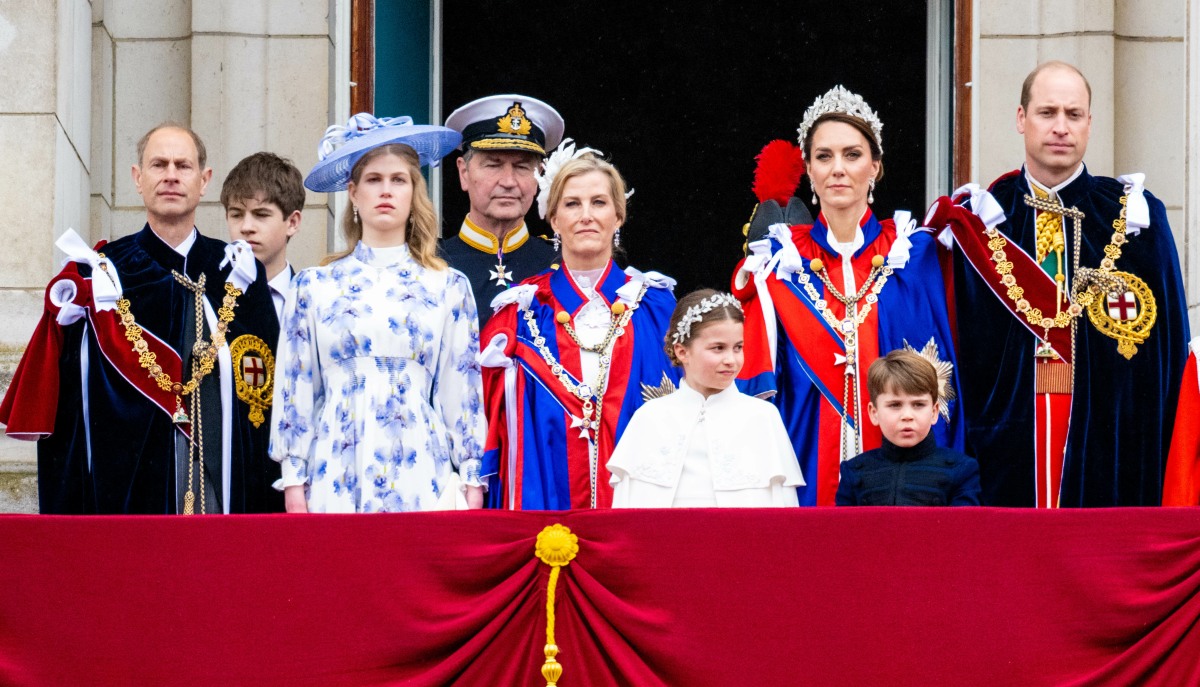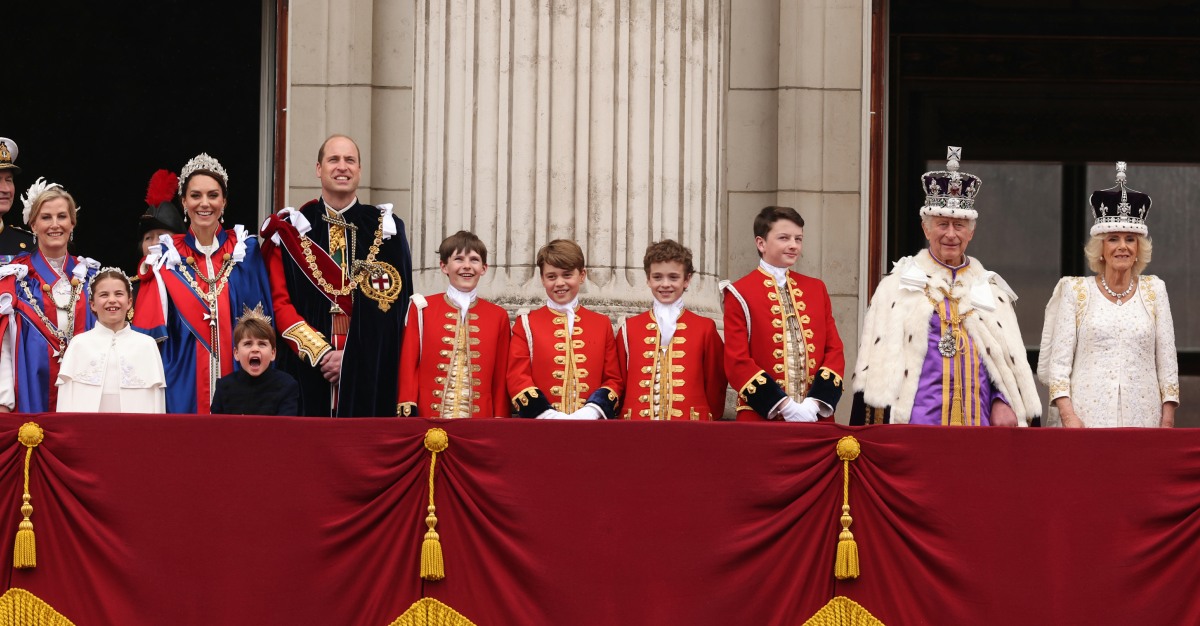 Photos courtesy of Avalon Red, Cover Images.
Prince William, Prince of Wales, Catherine, Princess of Wales, Prince Louis and Princess Charlotte on the balcony of Buckingham Palace after the Coronation of King Charles III in London, United Kingdom, on 06 May 2023.,Image: 774227083, License: Rights-managed, Restrictions: -, Model Release: no, Credit line: Marc Aspland The Times/Sunday Times / Avalon
King Charles III and Queen Camilla are joined by Prince William, Prince of Wales, Catherine, Princess of Wales, Prince George, Prince Louis and Princess Charlotte on the balcony of Buckingham Palace after their Coronation in London, United Kingdom, on 06 May 2023.,Image: 774227092, License: Rights-managed, Restrictions: -, Model Release: no, Credit line: Marc Aspland The Times/Sunday Times / Avalon
Prince William, The Prince of Wales and Catherine, Princess of Wales photographed as the Royal Family gather on the balcony following the Coronation of Their Majesties King Charles III and Queen Camilla at Buckingham Palace in London, UK on 06 May 2023.,Image: 774232621, License: Rights-managed, Restrictions: , Model Release: no, Credit line: Julie Edwards / Avalon
Prince William, Prince of Wales, Catherine, Princess of Wales, Prince George, Prince Louis and Princess Charlotte on the balcony of Buckingham Palace after their Coronation in London, United Kingdom, on 06 May 2023.,Image: 774233342, License: Rights-managed, Restrictions: -, Model Release: no, Credit line: Ian Vogler / Avalon
King Charles III and Queen Camilla wave from the balcony of Buckingham Palace following their coronation, London, United Kingdom, 06 May 2023.,Image: 774245294, License: Rights-managed, Restrictions: -, Model Release: no, Credit line: Tim Clarke / Avalon
King Charles III and Queen Camilla on the balcony of Buckingham Palace, London, following the coronation. Picture date: Saturday May 6, 2023.

Featuring: King Charles III, Queen Camilla
Where: London, United Kingdom
When: 06 May 2023
Credit: PA Images/INSTARimages

**NORTH AMERICA RIGHTS ONLY**
The British Royal family make an appearence on the balcony of Buckingham Palace after the Coronation

Featuring: King Charles III, Queen Camilla
Where: London, United Kingdom
When: 06 May 2023
Credit: Dutch Press Photo/Cover Images

**NOT AVAILABLE FOR PUBLICATION IN THE NETHERLANDS OR FRANCE**
The British Royal family make an appearence on the balcony of Buckingham Palace after the Coronation

Featuring: King Charles III, Queen Camilla
Where: London, United Kingdom
When: 06 May 2023
Credit: Dutch Press Photo/Cover Images

**NOT AVAILABLE FOR PUBLICATION IN THE NETHERLANDS OR FRANCE**
The British Royal family make an appearence on the balcony of Buckingham Palace after the Coronation

Where: London, United Kingdom
When: 06 May 2023
Credit: Dutch Press Photo/Cover Images

**NOT AVAILABLE FOR PUBLICATION IN THE NETHERLANDS OR FRANCE**
The British Royal family make an appearence on the balcony of Buckingham Palace after the Coronation

Where: London, United Kingdom
When: 06 May 2023
Credit: Dutch Press Photo/Cover Images

**NOT AVAILABLE FOR PUBLICATION IN THE NETHERLANDS OR FRANCE**
The British Royal family make an appearence on the balcony of Buckingham Palace after the Coronation

Featuring: King Charles III, Queen Camilla
Where: London, United Kingdom
When: 06 May 2023
Credit: Dutch Press Photo/Cover Images

**NOT AVAILABLE FOR PUBLICATION IN THE NETHERLANDS OR FRANCE**


Source link