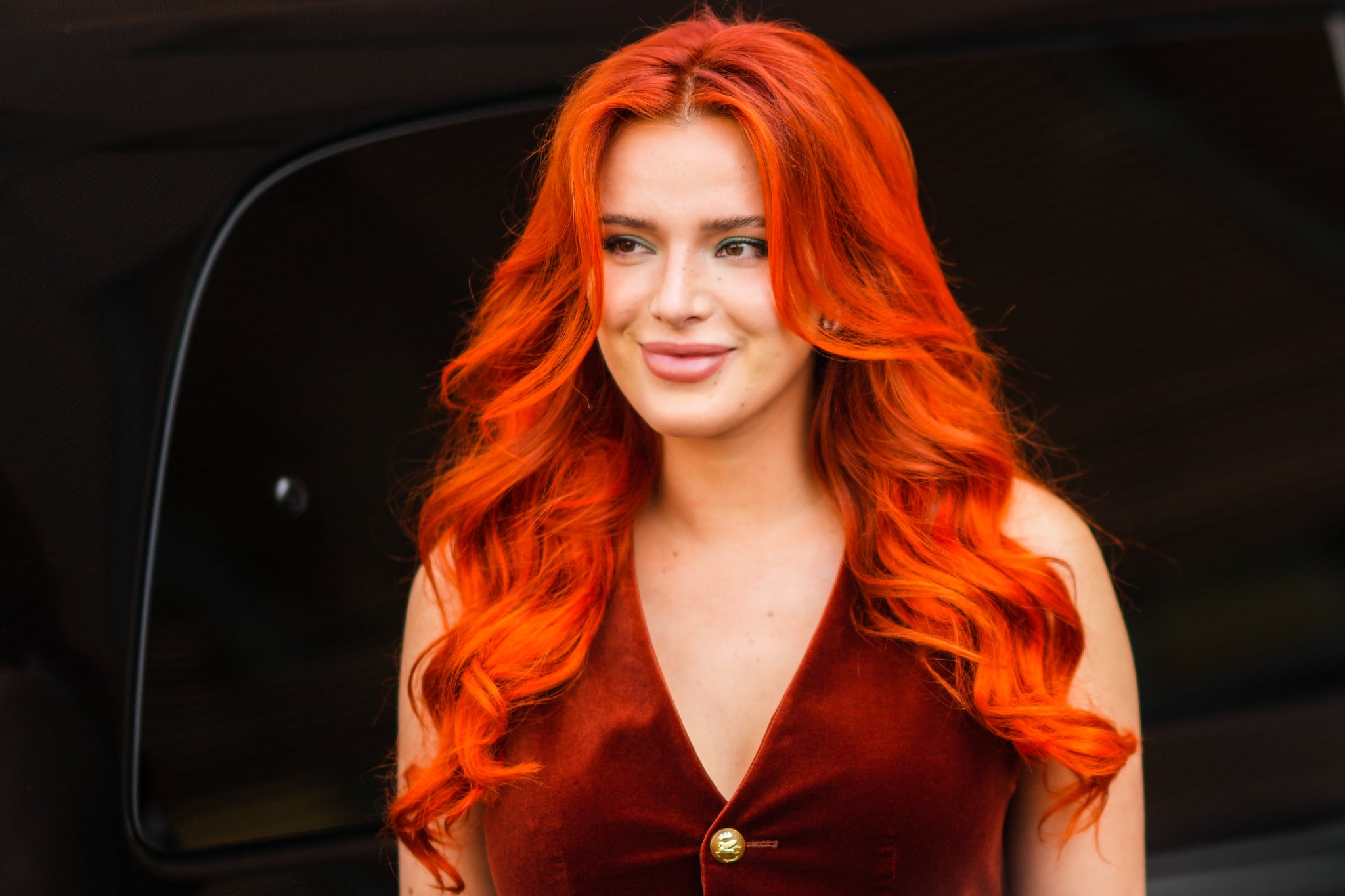 Bella Thorne isn't very into the idea of eternal life. "I think living forever is ridiculous. Who really wants to do that? Come on now," she tells POPSUGAR. "That is just too much. You watch the world change, you watch the sh*t in the world get worse and worse and worse, and then it gets better, and then it's worse again." The cycles, she thinks, would get old after a while.
This viewpoint aligns with her character in "Divinity," a surreal, sci-fi trip of a movie that premiered at the Sundance Film Festival in January. In it, Thorne plays the closest thing to a god or holy spirit the movie offers. Shot entirely on black-and-white film, "Divinity" centers around a serum that can make people immortal — with some unexpected and gruesome consequences. But while most of the movie centers on the dangers of taking science too far, Thorne plays a leader in a group of ethereal women who seem to represent an alternative way of living.
Set in a starry desert where the sun never shines, "Divinity" is a warped, retro thriller that follows a man (Stephen Dorff) who has inherited the company that makes the serum from his father. Soon aliens enter the fold and force him to take the serum himself, and violence follows.
But now and then, Thorne and her group appear on the screen, providing much-needed guidance for the film's few female characters. Thorne sees her role as the "good, divine feminine leader" of a group of "women that are going to help them and protect them," she tells POPSUGAR. "I'm kind of their savior in that way — to lead them to a long life and teach them how to fight and how to protect themselves, and how to be safe, and how to stay alive." In a world deadened by greed, her character symbolizes fertility and rebirth.
A longtime sci-fi fan, 25-year-old Thorne jumped at the chance to immerse herself in the genre. "I really like all the subgenres under psychological and horror and sci-fi. The three of those — I'm Gucci," the actor says. "That's honestly the only thing that I watch. I don't really watch comedy or drama very much, but I love some sci-fi sh*t, man. I f*cking love some sci-fi."
And while she wouldn't opt for living forever, she is looking forward to some things the future could hold. "I'm really stoked for flying cars, man. I feel like we've been talking about this sh*t for a long time, and it's taken a long time," she says, sounding serious. "I just want it to happen."
Of course, there are other parts of the future she isn't so hyped about. "I'm not excited for the AIs to take over the world and kill all of humanity," she says. "That doesn't seem super fun."
In the more immediate term, she wants to see meaningful changes in Hollywood and in society at large, especially as it relates to women's autonomy. Thorne has been open about her experiences being sexualized as a child star. She got her break on "Shake It Up" alongside Zendaya, and like many other young female stars, she experienced too much at far too young an age; for example, she recently opened up about a director who accused her of flirting with him when she was 10 years old.
She's hoping that things are different for others following in her path. "I would like to see more complicated women, more complicated female characters," she says. "We're not just a bad girl or a good girl. I would love to see more very dynamic female characters on screen."
She's also focusing on living in the moment. Thorne has a lot going on right now — she has her own jewelry company and weed brand to manage. She's also working on several new movies, including "Saint Clare," which she stars in as a vengeful female assassin.
Through it all, she says, she's working on her mental health and learning to rely on herself. In real life, just like her character in "Divinity," she's skeptical of miracle drugs and quick fixes. Although weed has helped her through a lot of her mental health challenges — that's why she's launched her own company — she's emphatic that it's not a be-all and end-all cure.
Ultimately, she's only human, neither a bad or good girl but just a person. But for a moment, she sounds a bit like the earthly embodiment of her "Divinity" character, full of lessons to impart on a greed-driven human race. "There's things that can help," she says, "but you are the only person that's going to fix yourself."


Source link